About us
Founder & CEO of GeoSilica, Fida Abu Libdeh
She came to Iceland from Palestine as a teenager with big dreams and ambitions. In 2012, she founded GeoSilica together with her team. They started the company with almost no funding, but plenty of passion and drive to succeed. She was inspired by the ravaging power and purity of Iceland and that is our benchmark when developing products with raw and powerful effects, bringing out raw beauty in the process.
GeoSilica develops daily supplements that naturally renews the body from within. By using advanced technology and the minerals found in Iceland's volcanic earth, GeoSilica's products are always 100% natural and pure.
GeoSilica has developed 5 different products. The original signature product PURE is the first product launched in 2015, containing pure Icelandic water and Silica. The product's good review from consumers is what inspired the company to do even better with adding 3 new products to the market in the fall of 2017. RENEW; with added copper and zink to benefit hair, skin and nails, RECOVER; with added magnesium to benefit muscles and nerves and REPAIR; with added manganese to benefit joints and bones. In the summer of 2019 we launched REFOCUS; with added Vitamin D & Iron for the normal function of Mind & Energy. All of the products have no added harmful chemicals and are registered by the Vegan society.
OUR VALUES
NATURAL - Our products are pure and natural which are produced sustainably. We believe in manufacturing and developing products in harmony with nature; using minerals from deep within the earth, and leaving minimal trace on the planet while doing so.
RENEWAL - is the benchmark for all GeoSilica products - whether restoring what has been damaged or broken, or bringing out raw beauty by treating our bodies from within. We invigorate you physically, calming you mentally in the process, for holistic renewal of body and mind.
ICELANDIC - GeoSilica is inherently connected to Iceland and its unique geological conditions. Iceland' has a geothermal field which makes our natural Silica sourcing possible – and our country's culture of healthy living is what inspired us to start the company.
INNOVATION - We always wanted to push the boundaries of what is possible in our field. GeoSilica is founded on our one-of-a-kind production method GeoStep. Several years of research laid the ground for where we are today. We will continue to better ourselves, never settling for less than ground-breaking.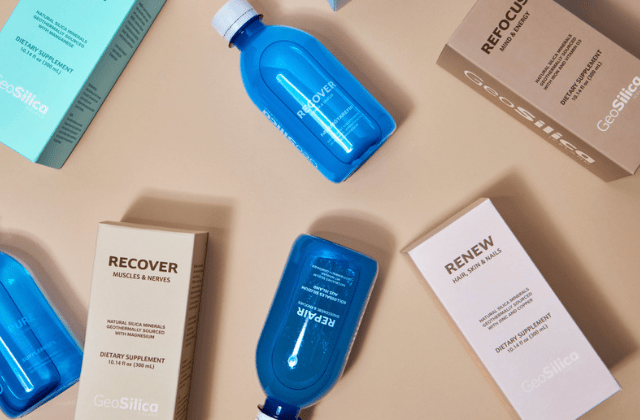 Skoðaðu vöruúrvalið
Skoða vörur
Þarftu aðstoð?
Hafðu samband við okkur í gegnum tölvupóst geosilica@geosilica.com