Testimonials
GeoSilica Customers are a diverse crowd that span between young and old, and their needs are different as such – whether reacting to health concerns, fortifying their bodies for an active lifestyle or seeking to bring out raw and natural beauty. Our customers are increasingly conscious about the naturalness and purity of the products they choose when in need of treating themselves. Read what our customers have to say about GeoSilica Supplement.
HELGA
Uses RECOVER for muscles and nerves
"I have been using RECOVER since the fall of 2018. I used to cramp a lot while running, it came to the point where I had to take a month off from running. Since I started taking RECOVER the cramping has stopped".
SIGRÍÐUR
Uses PURE and RECOVER for overall body renewal

"I have tried PURE and RECOVER. Both of them work for me. In 10 days I felt a difference in my hair and nails - that is the reason I bought the products."
REGÍNA
Uses REPAIR for joints and bones

"I bought the products to see if my joint pain would get better. I got lucky since it wasn't only the joint pain that went away but my hair got thicker and my nails got stronger."
DOLORES MARY
Uses REPAIR for joints and bones

"Great product! I Would recommend REPAIR to anyone. I had multiple fractured bones after a car crash and REPAIR has helped me heal and I see a huge improvement!".
ANNA JÓRUNN
Uses RENEW for hair loss and eczema
"I take RENEW for my skin hair and nails. It has helped me dealing with eczema and hair loss. I can't be without it".
KATRÍN RUT
Uses PURE for overall body renewal
"These products are amazing. I lost all my hair a year ago due to autoimmune disease but my hair grew back thanks to the GeoSilica PURE product".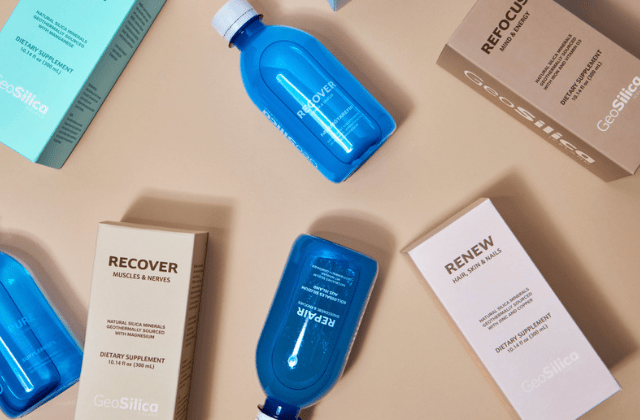 Skoðaðu vöruúrvalið
Skoða vörur
Þarftu aðstoð?
Hafðu samband við okkur í gegnum tölvupóst geosilica@geosilica.com