Regular price
Sale price
4,990 ISK
Unit price
per
Sale
Sold out
Ef þú skráir þig í áskrift færð þú 15% afslátt af GeoSilica vörum og fría sendingu.
Áskriftir fara í gegnum Salescloud.
In stock
GeoMix: Sameinaðu fjórar vörur og fáðu 20% afslátt sjálfkrafa í körfu.
Áskrifendur fá 15% afslátt og fría sendingu

Frítt að skipta eða skila með Dropp
Lýsing

GeoSilica is sourced from geothermal water deep within Iceland's volcanic earth, using no artificial chemicals. REFOCUS contains 100% natural geothermal Silica with added iron and vitamin D in pure Icelandic water. For mind and energy. Iron contributes to normal energy-yielding metabolism and normal cognitive function. Both iron and vitamin D contribute to the normal function of the immune system.

Contains silica, iron and vitamin D3
Increases energy levels
Improves focus and memory
Improves immunity system
GeoMix:

Sameinaðu fjórar vörur og fáðu 20% afslátt sjálfkrafa í körfu.
View full details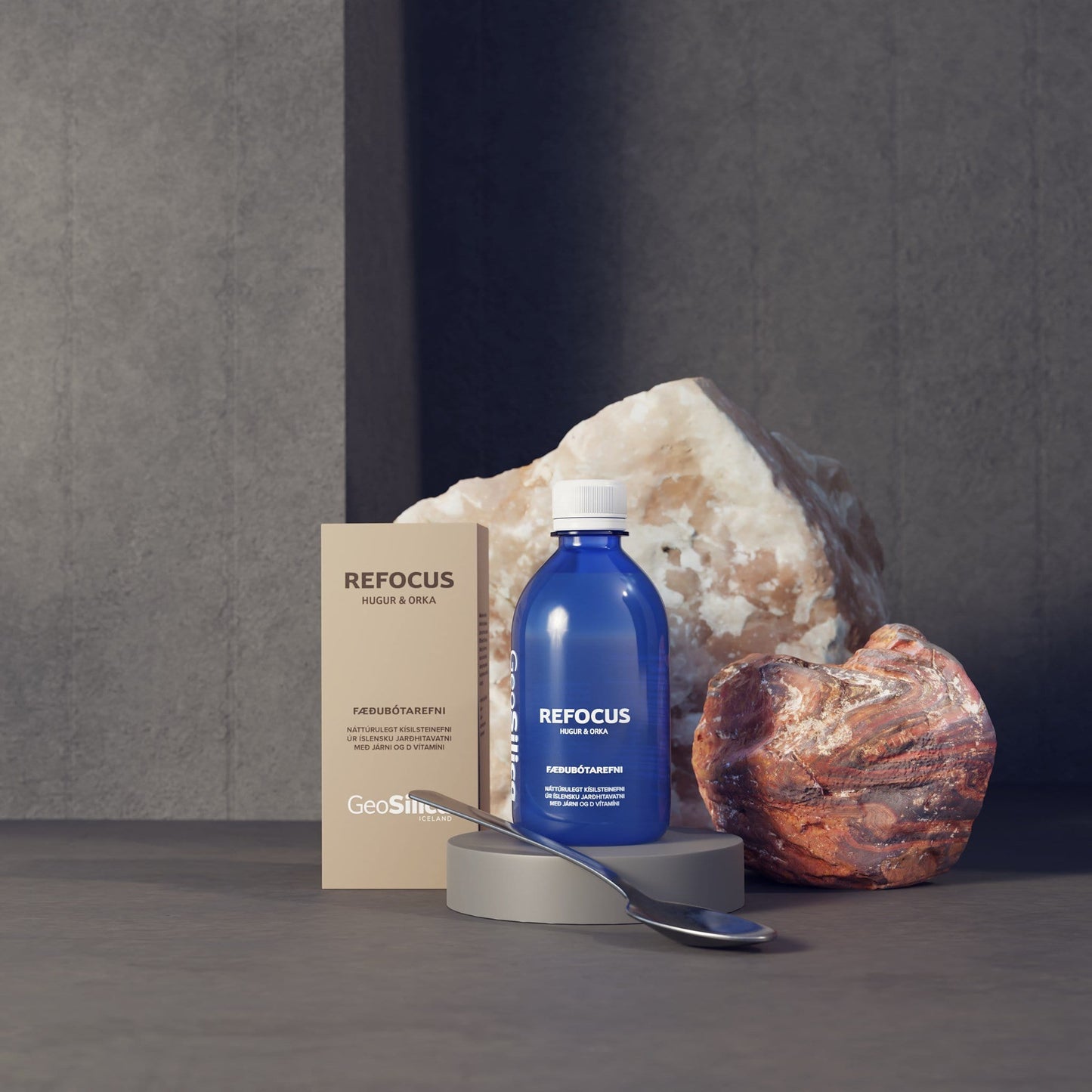 very impressed!
I have only been taking refocus now for one and a half week and I can feel the difference in my energy already! I feel like I have a more balanced energy throughout the day now that I didn't experience before.
Ómissandi
REFOCUS er frábær viðbót við rútínuna og slær klárlega á eftirmiðdagsþreytuna!
Frábært
Virkilega gott að byrja daginn á þessu og lýsi alla daga.
Eykur klárlega fókus og orku
REFOCUS - Fæðubótaefni fyrir hug og orku
proof that it really works
Because of my iron shortness. I was happy that I could try this. After 1,5 month finally I didn't have any shortness anymore. So happy :)
It really works! 100%